What is a CoChallenger?
CoChallengers are a special group of individuals and businesses who donate matching funds to Old Bill's. CoChallengers do not designate their gifts for specific nonprofits, and instead support the matching grants that all participating nonprofits receive. Led by Mr. and Mrs. Old Bill, who donate $500,000 annually, CoChallengers give at levels of $25,000, $35,000, $50,000, $75,000, $100,000, $150,000 and $250,000. These donations form the match pool, which is divided up to supplement funds participating nonprofits raise.
In 2022, nonprofits were provided with a 61% matching grant on designated funds raised up to $30,000; organizations that raised $30,000 or more in designated gifts received the maximum matching grant of $18,240 from the Community Foundation.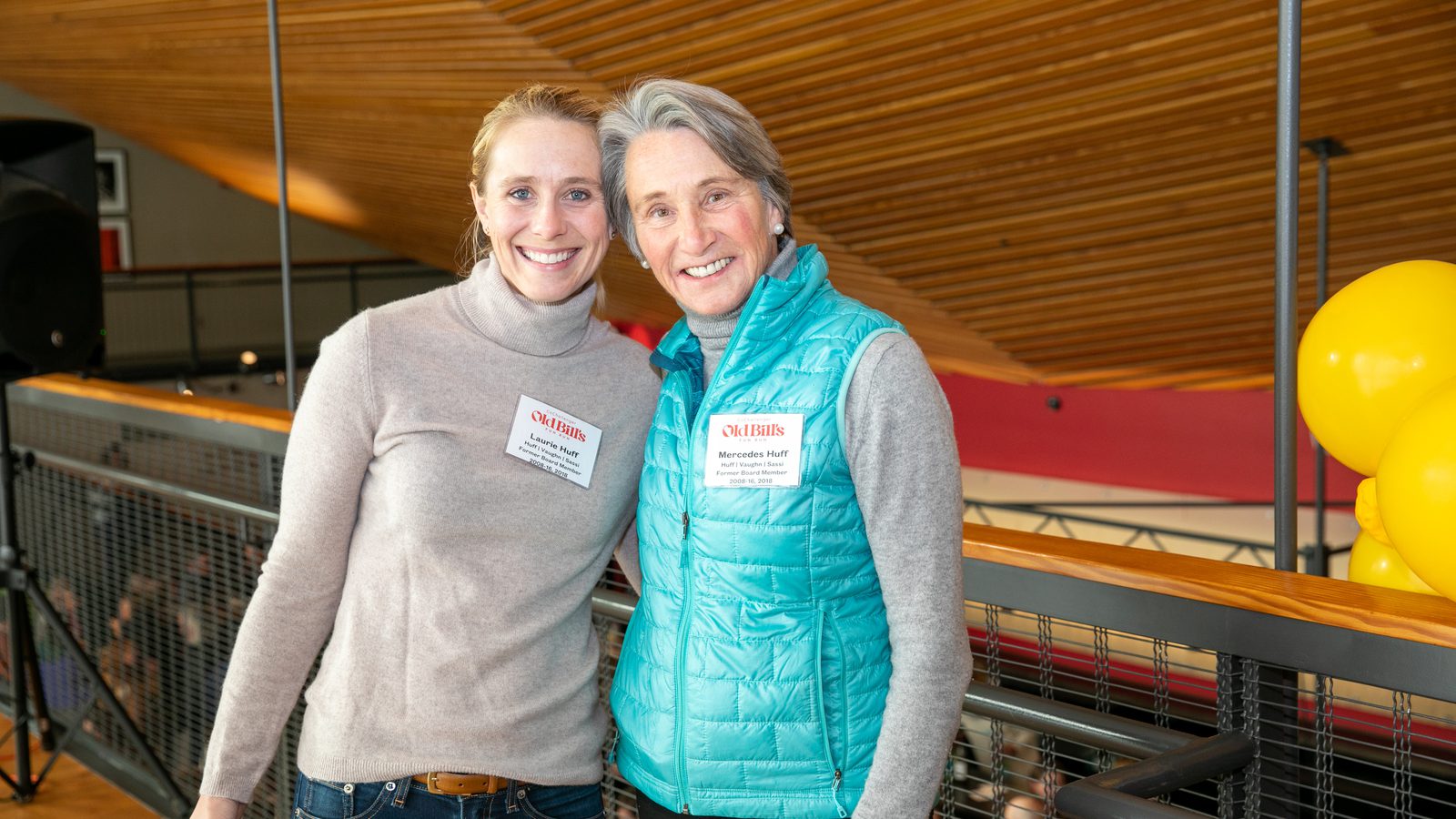 CoChallenger Close Up: Mercedes and Laurie Huff
Mercedes Huff and her daughter, Laurie, have been involved in Old Bill's in various ways since the event's inception in 1997. Mercedes has supported Old Bill's as a CoChallenger for the past fifteen years.


CoChallengers are a special group of individuals and businesses who donate to the Old Bill's match pool, which is used to match the community's designated donations to local nonprofits. Led by Mr. and Mrs. Old Bill, who donate $500,000 annually, CoChallengers give at levels of $25,000 and up.


"The first Old Bill's Fun Run took place when I was 9 or 10 years old," Laurie remarked. ​"I can remember it vividly. I remember participating on behalf of the Jackson Hole Ski and Snowboard Club. I was raising awareness for a nonprofit that I was a part of."


When Laurie returned to Jackson after college, she decided to join Mercedes by participating in Old Bill's as a CoChallenger. Mercedes and Laurie recognize the importance of the legacy they are creating by supporting the community's nonprofits through Old Bill's.


"It's important to lead by example," Mercedes said. ​"When people see that we are participating in Old Bill's, they might be inspired to get involved too. It's an excellent way to learn what's really going on in the community."


Giving back to the Jackson community is a family value that Laurie and her husband, Collin Vaughn, are hoping to instill in their daughters. ​"Our girls came to Old Bill's in a stroller last year," Laurie commented. ​"We hope they will continue being
involved and supporting this event for years to come."
Total Funds Raised to Date
$228,714,344
CoChallengers are Community Leaders
The generosity of CoChallengers inspires increased giving from the community and is key to Old Bill's success. CoChallengers are community leaders who intrinsically value philanthropy, and help highlight the tremendous work of local nonprofits. In total, 85 CoChallengers partnered with Mrs. and Mrs. Old Bill in our most recent Giving Season, with 11 either increasing their gift or donating to the match fund for the first time.
Thanks to CoChallengers...
Nonprofits receive 100% of designated contributions and pay no administrative fee to participate
Over 200 organizations enthusiastically cooperate in a unified fundraiser
A portion of the match pool provides additional grant funding for nonprofits throughout the year via the Community Foundation's Competitive Grants, Youth Philanthropy, and Micro Grant programs
Old Bill's continues to grow, with 1 in 3 households in Jackson participating!
Thank You to our 2023 CoChallengers

Challenge — $1,000,000
Mr. & Mrs. Old Bill
Double Black Diamond — $250,000
Bill Newton
Diamond Business — $100,000
Caldera Lab+
Diamond — $100,000
Anonymous (2)*
Zooey & Lyons Brown
Leslie & Chris Johnson
Marsha & John Kleinheinz+
Alice & Rod Moorhead*
Stacey & Robert Morse
Platinum — $75,000
Susan & Joe Davenport
Deborah & Jon Dawson
Lannie & Bill Hoglund
Erika Pearsall & Ned Jannotta
Gold Business — $50,000
Graham-Faupel-Mendenhall /​Karen Terra & Bob Graham, Julie & Matt Faupel, Mack Mendenhall+
Gros Ventre River Ranch /​Karl & Tina Weber Charitable Fund
Huff /​Vaughn /​Sassi /​Laurie & Mercedes Huff, Collin Vaughn, Jill Sassi
Gold — $50,000
Anonymous+
Marcia Kunstel & Joe Albright
Laurie Andrews & Perk Perkins+
Christie & Jon Callaghan
Lisa Carlin
Chris & Ross Hartley
Kemmerer Family Foundation
Catherine & David Loevner
Mays Family Foundation
Kathleen McCarragher+

Seven Pines Foundation+
The Serenity Fund*

Dorie & Randy Smith+
Silver Business — $35,000
Bank of Jackson Hole
First Republic, now a part of JPMorgan Chase
Silver — $35,000
Val & Dick Beck
Nancy & Dick Collister
Mary Anne Cree, In Memoriam
Peggy & Kirk Davenport+
Margot Snowdon & Yves Desgouttes
Lisa & Are Friesecke*
Sanae Ishikawa & Richard Georgi
Marne & Ed Holstein
Katharine Conover-Keller & Fred Keller+
Gloria & Richard Kushel
Janine & David Lloyd
Jason Moment*
Laura & Matt Murphy
Shirley & Paul Piper
Caroline & Ken Taylor+
Janet & Bob Whitmire
Bronze Business — $25,000
Crystal Creek Capital
Four Seasons Jackson Hole
New West Building Company*
Osprey Beverages
Wells Fargo
Willow Street
Y2 Consultants
Zions Bank
Bronze — $25,000
Sarah & Tim Belk*
Erin & Brandon Black*
Katherine & Bill Burford*
Liz & David Chandler
Carly & Clayton Christopher*
Suzanne & Jeffrey Cohodes*
Leah Missbach Day*
Catherine & Jeff Dishner
Nisha & Steve DuBois
Nancy & Rolf Engh
Julia & Thomas Ritson Ferguson
Deirdre & Vance Griffith

Monica Erickson & Philippe Hartl
Judy Hofflund & Tom Hansen
Jane & Tom Hill*
Debby & David Hopkins
Missy & David Hoster
John Hurley
Kate Jensen
Cindy & Evan Jones
Elisabeth & Chansoo Joung
Rita Zetterberg & Jim Kaplan*
Sara & Ed Keller
Kristin & Mike Kelly
David Landes & Family
Cathy Kehr & Remy Levy
Live Oak Fund
Tammy & John MacWilliams
Niner Family
Julie & Hugh O'Halloran
Marge Ordway
Dakin Sloss
Patti Stancarone
Lenise & Randall Stephenson*
KK & Jamie Streator*
Randi Levine & Jeff Trenton
The Trifecta Fund
Jay Varley
Kae & Ben Wallace*
Leslie & Jim Walter

Suzanne & John Willian
Lucy Wild & Jason Wolff
Sasha & Mike Zolik

Confirmed CoChallengers as of 9/​8/​2023
* indicates new, + indicates increased

Thank You,
In-Kind Donors
Old Bill's relies on the generosity of dozens of local businesses and nonprofits that donate goods and services to the event. The following organizations help make the event possible:
The Bunnery Bakery & Restaurant
Canvas Unlimited
Celebrate Jackson Hole
Center for the Arts
Gillespie Real Estate Team
Habitat for Humanity of the Greater Teton Area
Haderlie Farms
Hughes Production
Jackson Curbside Recycling
Jackson Elementary School
Jackson Hole Children's Museum
Jackson Hole Farmers' Market
Jackson Hole Mountain Resort
Jackson Hole POP!
KHOL 89.1
Local Restaurant and Bar
Macy's Services
McDonald's of Jackson Hole
Pearl Street Bagels
Pearl Street Market /​Aspens Market
Persephone Bakery
Pinky G's Pizzeria
Prugh Real Estate
Redeemer Lutheran Church
Rosie Read /​R2
Snake River Brewing
Snake River Roasting
St. John's Health
Teton County /​Jackson Parks & Recreation
Teton County Integrated Solid Waste & Recycling
Teton County Library
Tormack Custom
Screen Printing
Town of Jackson
Westbank Sanitation
The Wort Hotel
Become A CoChallenger
Are you interested in learning more about becoming a CoChallenger? Please contact us to set up a personalized meeting and begin the process!